About Lucy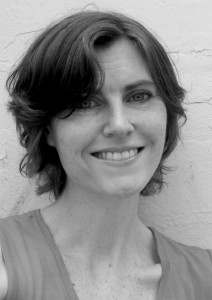 On the surface there isn't a lot about my life that indicated I would become a writer. I grew up in Kurrajong with my parents, both of whom were primary school teachers, my two older sisters Emma and Elissa and my older brother Lochsley.
There were of course books in the house but as a young child I was rarely aware of them. Dad occasionally read us chapters from The Magic Faraway Tree which I adored and Snugglepot and Cuddlepie which I hated. However this was rare and I have only snippets of memory of these times. It wasn't that I didn't like being read to, it was just that Lochsley and I were such active children that sitting down and being still for any length of time seemed an unnatural state for us. I spent a majority of my time outdoors with Lochsley engaging in feats of strength, agility, speed and daring.
We created our own worlds and adventures instead. Being the younger sister, I would usually go along with Lochsley's ideas which revolved around being spies, green beret Army officers, sports heroes and daredevils. When I played by myself I would indulge in stories of survival and trudge my poor dolls and teddies through blizzards and treacherous forests, building makeshift camps and fires as we battled the elements.
One very strong constant memory of books that I have however, is of Dad taking an empty sports bag down to the local library and coming back with it completely full. This stack of a dozen or so books would last him no longer than a month at which time he would take them back and borrow another bag full.
My own love of reading didn't kick in until about fifth grade when I read Anne of Green Gables. Reading that book became a defining moment in my life as it was the first time I became truly involved in a story. So much so that it had me laughing out loud and crying tears of great sadness. I read the book without pause and over the course of the summer holidays I read the entire Anne series plus the Emily trilogy and a few other stand alone stories by L M Montgomery.
I quickly moved on to Judy Blume and the wonderful Choose Your Own Adventure books. I then added in a couple of other noteables like The Cay by Theodore Taylor , I Am David by Anne Holm and The Silver Sword by Ian Serraillier. Not a lot of light hearted reading there. Don't worry, that comes later I promise.
At about the same time I discovered the joy of creating my own weekly newspapers which I filled with articles about the ever unexciting life within our household. I even drew comic strips albeit badly. I forced these newspapers upon my family which they took with good grace and humor and then discarded quickly into the closest recycling bin when I wasn't looking.
I didn't love writing then, but I did it well and I used this skill to my advantage at high school with English and History Essays. I did, however, enjoy writing and performing speeches. Or, more accurately, I enjoyed making people laugh and so all of the speeches I wrote had amusing topics. My sense of humor has always been a little bit sharp and a little bit juvenile. Even now with three young children I chortle along to their ridiculous and absurd chatterings and jokes.
Even so, never once throughout my schooling life did I even contemplate writing as a career option. Instead, my favourite subject was German and so it was around languages that my tertiary studies revolved. I went off to The University of Sydney to study German and Japanese, with the potential of becoming a language teacher. However I didn't make the most of my classes and managed only to scrape by and grasp at my degree with the very tips of my fingers.
I spent more time working at night to pay the rent and food bills than I did studying and so finished without much confidence in any of my abilities. Looking around for something that I felt I could do, I found computer games. In my final year of university I met my now husband Matt and it was through him that I was introduced to the world of Quake and then Unreal. At that moment the metaphorical God rays shone down on his computer and a choir of angels sang. I was instantly in love with computers, computer games and above all else, designing and building levels for Quake. I quickly left my languages behind and started searching for a way to get into game design. One option open to me was to start with graphic design, so off I went to TAFE for a one year course.
At about this time the internet was quickly becoming the next big thing and startup dot com companies were springing up all over Sydney. Not having the money to return to a second year of TAFE I then worked in a handful of places before winding up at Leo Burnett in their digital department. This really was a very lucky break and I was desperately underqualified, but I spent the hour long interview talking with the head of the department about our mutual love of computer games and I think that won him over.
It was in web development that I would then spend the next 10 years of my life, both in Sydney and, from 2003 to 2009 in London. I didn't do any design, I was purely on the hard core coding side of it, and I loved every minute. I found, much to my surprise, that coding was easy, while design was increasingly difficult with the multitude of client demands and changes that came with every job. I loved living in London and my husband and I bought our first home and had our first child there. So it will always have a special place in my heart.
In 2009 my husband, our daughter and I moved back to Sydney so that I could spend more time with my dad who had been diagnosed with Alzheimer's. Child care waiting lists were and still are so ridiculously long in Sydney that one of us, either my husband or I, would have to stay home and look after our daughter while we waited for a place to become available for her. Since Matt had a job lined up already, I was the one to stay home. However, I had never been unemployed before and I found that I really needed something to keep my mind busy.
Whilst in London I had started making up stories for my daughter and really rather enjoyed it and so when our move to Sydney coincided with the start of a night time Writing for Children's course taught by Libby Gleeson at Sydney University, I decided that it was meant to be and signed up straight away. I couldn't believe my luck when I turned up to class to discover that there were only five of us enrolled.
There must have been some problems with the advertising as usually there were closer to thirty in the class. There was one night when I was the only student because the other girls, who were all from the one company, were away for work. The course was great and from it came my story "A Fine Musician" which I made into an iPad app.
The iPad had just been released in the US and a friend brought one back from a business trip. The moment I saw it I knew I had found my next thing to learn. I spent the next six months figuring out how to make apps and released my first one in December of 2010. Six more have since followed.
It was also around this time that I wrote the first draft of "Suri's Wall".
So what do I do now? I read James Thurber and Terry Pratchett when the kids go to bed. (See I promised you light hearted reading). I write as much as I can and continue to make apps in the spare moments in between raising my three gloriously individual children. My weekends are taken up with running to various sporting commitments and cheeky late night ice cream parlour surprises.
I watch and listen, absorb and retain as much of the world around me as I can manage without going insane. I experience and ponder and I feel the hurt and pain as well as joy and exhilaration of those I love and those I don't know. Why? Well, because that's where the stories come from.
Suri's Wall
When I first saw Suri
Do you know that moment just before you fall asleep, when images explode into colour under your heavy eyelids and a bolt of emotion shatters your tiredness and brings you back fully into the waking world?
Well that was where I first saw Suri, standing alone, peering over the top of her wall. I saw her from behind as she stood on tippie toes with her painfully skinny legs poking out from under her long skirt. Her fragile fingers gripped the edge of the top row of bricks and the morning light rested on her scruffy brown hair which was pushed back behind her ears.
I didn't know then who she was or where she was but I knew Suri was different, very different. She was a young girl, scared and isolated in a world that seemed unusually void of softness. I knew Suri was lonely to her core but she was far from alone and that was when my heart broke and I first heard a handful of lines from the story which I jumped out of bed to scribble down.
"What can you see?"
"What can I see? Oh it's beautiful, let me describe it to you."
Of course these words have changed slightly as the story evolved and a lot more words have been added in around them, but their essence remains and I still have a hard time reading them out loud to my daughter.
What I am hoping to do with this website is to give you an idea of how Suri's Wall grew from this initial idea to the fully fledged book that it is now. The process was long and so much ebbed and flowed along the way. It is the amalgamation of more than just me and Matt Ottley and without the whole team at Penguin it wouldn't be the beautiful book that it is today.