Mixamo is an Adobe library of Characters and Animations that are free to use. It is quite extensive and for learning purposes it's definitely enough to do the job. Follow these steps to download a character and an animation to use in Unreal.
STEP 1 – LOGIN or Create account
Go to Mixamo and either log in if you already have an account, and if not, sign up because it's free.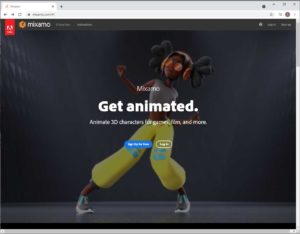 STEP 2 DOWNLOAD CHARACTER
You'll see two tabs at the top of the page. Characters and Animations. First go into the Characters tab and search through the vast array until you find something you like. Then simple click the orange DOWNLOAD on the top right.
In the download dialogue box that comes up you can just keep the default .fbx Binary as the download Format, and T-Pose as the Pose. Click the Orange DOWNLOAD button
STEP 3 DOWNLOAD ANIMATION
Click on the Animations tab at the top of the page. Search through the animations until you find one that you like and click on it to load it into your character panel on the right.
Now before you download the animation, you have a panel on the right, highlighted, where you can make minor adjustments to the animation so that it suits your character. Especially helpful if your character is very fat or very skinny. Have a play around with the sliders and you'll get to know what they do.
Then click the orange DOWNLOAD button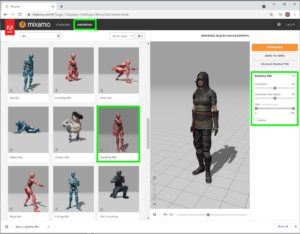 Download with the following settings. I choose not to download the skin because then I can just assign the animation to as many characters as I like.
Click the orange DOWNLOAD button.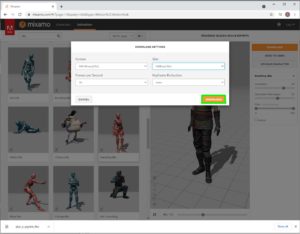 One thing to note with moving animations like walk cycles, in Mixamo they cross the floor which you rarely want them to do when you are using them in the editor. If you look at the Mixamo preview when you choose a walk animation you'll see what I mean.
When you have your characters in Unreal though, you pretty much always want to control where the character goes with your own code, so you need to check the In Place checkbox before you download. Once you click it you'll see the difference.